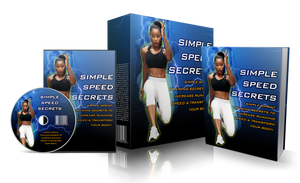 Simple Speed Secrets - Video Course
Simple Speed is a beginners Guide on Increasing Running Speed and Body Transformation with Sprint Training. A VERY good overview touching on all areas of Sprinting - Casual & Professional Training Philosophy, origins of the Sport and much more! 
Narrated by competitive Sprinter John Hauks. 
Check out the Video Sample!
(INSTANT DOWNLOADS)
⬇CHECK OUT THE SAMPLE⬇
---